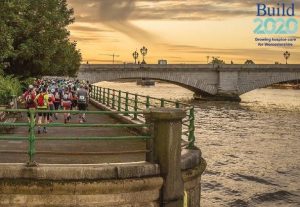 On September 8th 2018 the Worcestershire Ambassadors Amazing Adventurers are walking 50k in a day along the Thames Path from Runnymeade to Henley on Thames with the aim of raising £50k to support St Richard's Hospice Build 2020 appeal.
Training has already started and the team will be meeting the last Sunday of each month for a training walk. The momentum is building and the Training Link and Kit List are available via the following link:
Worcestershire Ambassadors are supporting St Richards Hospice for their "Build 2020 Appeal" as each year there are hundreds of people in Worcestershire who are not getting the expert end of life care they deserve.
Worcestershire Ambassador Director Philip Fowler, who is leading the walk for the Ambassadors in memory of the Vice Chairman 2017 "Derek Fradgley"  said "I like most people have seen the impact of cancer. Over the last two years I have had two lots of skin cancer so have seen first hand the amazing work cancer surgeons do as well as the teams that support them. Thankfully my cancer was treatable, for many it isn't.
We lost Derek last year very suddenly. The Hospice were brilliant with him so the least I can do is walk 50km to remember Derek and raise funds for them"
Currently the hospice supports more than 3,000 people a year. By building a bigger hospice St. Richards can better support current patients and reach the unmet need of thousands of local people in the future. The bigger hospice will help support over 4,000 by 2020/21 – a 25% increase.